---
People often ask me where I get the ideas for my award winning houses. Most of it comes from my own passion for form, but it also comes from the greats that have gone before me. Frank Lloyd Wright has been an inspiration for me from the beginning of my career, and he continues to amaze me today.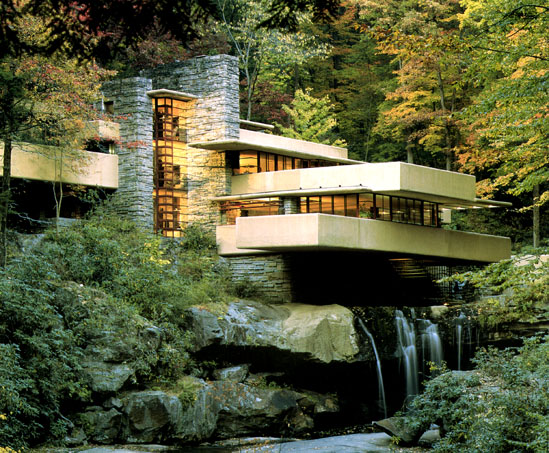 During the course of his life, he designed over 1000 buildings. He had a philosophy he called organic architecture, which compels the architect to build according to the land around the structure.  When you look at Fallingwater (1935), possibly his most iconic building, you can see how the house practically grows out of the land, interacting with its surroundings so gracefully. This is one of the reasons I like to stand on the site with my clients before I start a build: to feel the landscape, and show my clients my vision for their house in its natural setting.
Wright wasn't just an architect, he was an artist. He was a genius. When you look at the body of Wright's work, every building is different from every other one. As industries and habits changed, he changed with them. His career spans the industrialization of North America, and his houses reflect that cultural shift.
One of the reasons I have so much respect for him is that he was never content to just build a house. He was always trying new things, always innovating. Towards the end of his career, another architect characterized him as being "an old amateur" and Wright responded "I am the oldest."
He was so far ahead of his time, that the average builder still works as if Wright hasn't even happened yet. The current climate in the building trade is to make one-size-fits-all houses that conform to the common denominator without depth or personality.
So many houses don't belong to their owners. They're missing the detail, the artistry every well designed house should have. The idea of an organic house, of a unique structure that belongs to the land around it may still be a rare thing in this industry, but it isn't at Vineyard.
I take my inspiration from Frank Lloyd Wright. I see the love, care, and attention to detail in everything he built, and I work every day to put that same attention to detail in the houses I build for my clients. When I design a house for you, I'm creating your space, your experience of home. Frank Lloyd Wright didn't take that lightly, and neither do I.