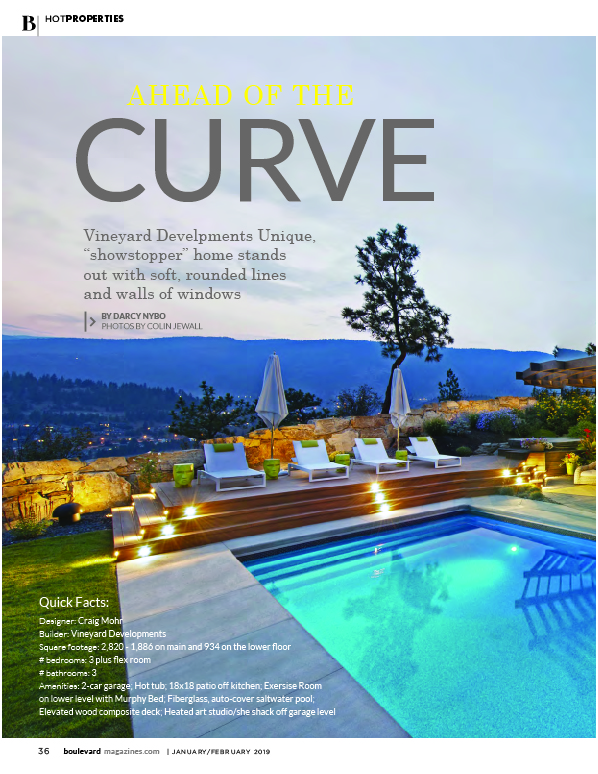 "People stop all the time to look at it because it has a real curvy sex appeal to it …
The lines of the home are soft and rounded. Nature is not linear. The mountains are
curvy; the lake has curves. I love building homes that have a softer look to them."
The soft, rounded lines of builder Craig Mohr's Vineyard View house immediately stand out in contrast to the right-angles of neighbouring luxury homes in West Kelowna. Craig, who owns, operates and designs homes for Vineyard Developments, prides himself on creating unique and livable homes in the Okanagan. "The original owners came to me in 2015 and wanted something impossible," Craig says, as he recalls the story behind this stunning build. "They asked for a rancher-style home with a patio off the kitchen area, combined with a half walk-out on the lower floor. I told them in order to do that we would have to find a side-sloped lot where we could create the rancher on the top floor and a walk out on the lower level." After searching the area, Craig found the perfect lot in West Kelowna. With it, he could create the rancher style home with an upper patio and a partial walk-out basement — all with a lake view. And his vision didn't stop there. "We created sloping pathways around the house so you don't have to take stairs if you don't want to," he says. "You can…
Click to Read More »
---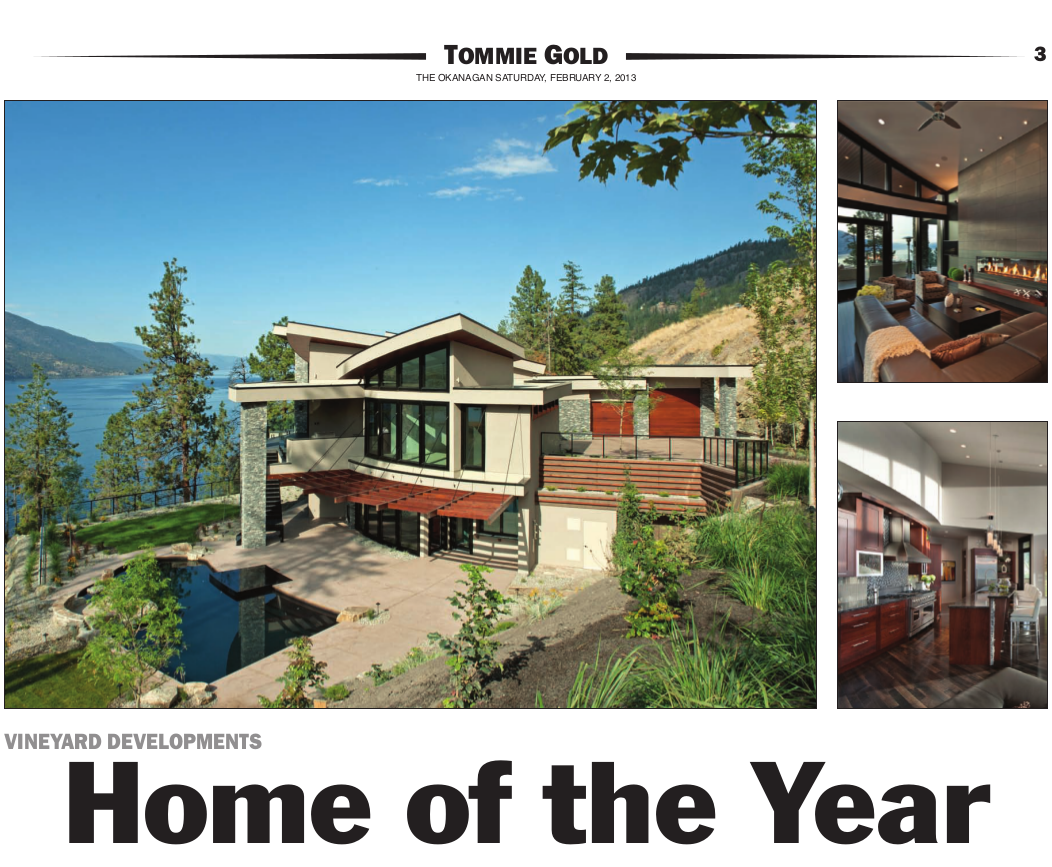 By Ross Freak
Special to The Okanagan Saturday
February 2, 2013
Craig Mohr's journey to building excellence and a grand Tommie started on a drilling rig in Northern Alberta. The fifth generation builder won Home of the Year – one of the four Grand Tommies — and another gold for excellence in a single family detached home over $3 million at the Canadian Home Builders Association gala January 26th.
"My dad offered me his business when I finished high school and even though it took me a few years to figure things out and come back to this industry, I now feel very lucky to be doing something I'm so passionate about. From concept, design and materials – to construction and completion, Vineyard Developments is an extremely satisfying business for me."
Instead, Mohr studied business, and fine arts and got his first job in Kelowna at Western Star's marketing department. "I had a dream of putting on a suit and tie, going to the office, which I found I really didn't like. The pay was good and I'd probably still be there, but fortunately, they closed the plant and I had to head in another direction."
That direction eventually took him to the drilling rig. "It was 30 below, so I phoned my dad to see if he would help me start a construction business in Kelowna." His father, who had moved here, had just been offered a piece of property in the…
Click to Read More »
---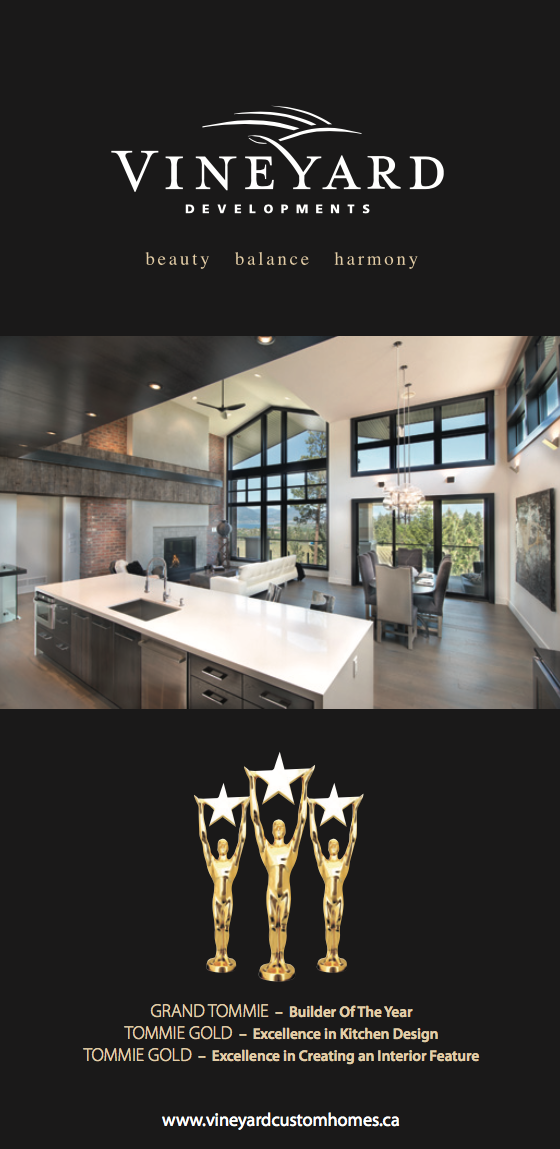 Vineyard Custom Homes won 3 awards at the 2017 Tommies, including the Grand Tommie for Single Family Home Builder of the Year — Small Volume
Click to Read More »
---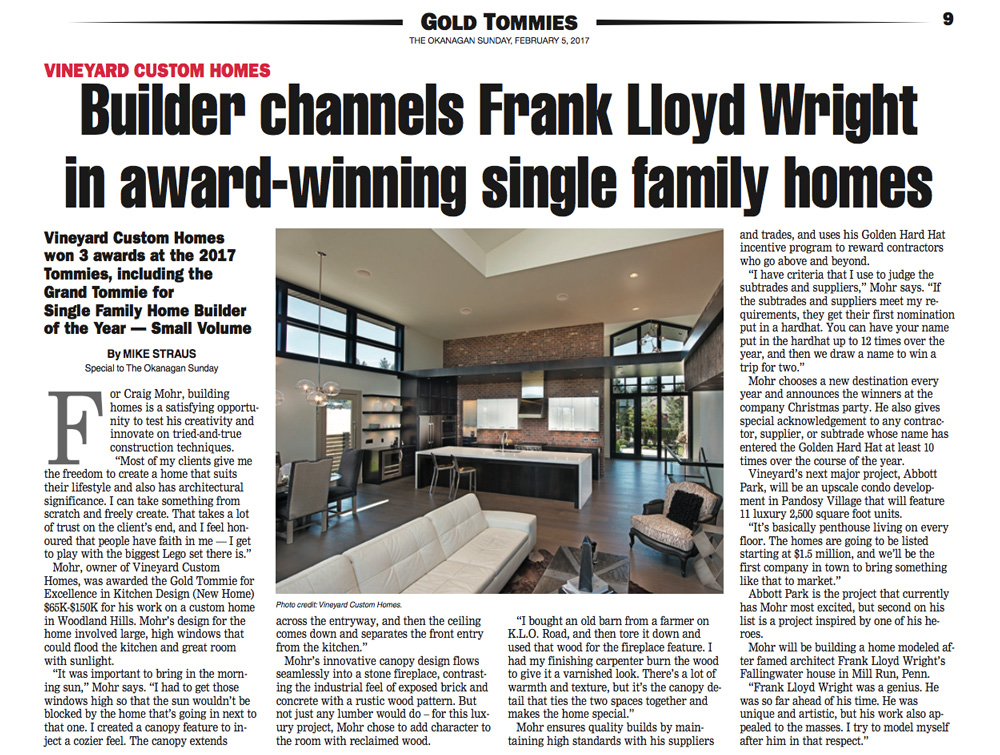 The Okanagan – February 2017
Written By MIKE STRAUS | Special to The Okanagan Sunday
Vineyard Custom Homes won 3 awards at the 2017 Tommies, including the Grand Tommie for Single Family Home Builder of the Year — Small Volume
For Craig Mohr, building homes is a satisfying opportunity to test his creativity and innovate on tried-and-true construction techniques.
"Most of my clients give me the freedom to create a home that suits their lifestyle and also has architectural significance. I can take something from scratch and freely create. That takes a lot of trust on the client's end, and I feel honoured that people have faith in me — I get to play with the biggest Lego set there is."
Mohr, owner of Vineyard Custom Homes, was awarded the Gold Tommie for Excellence in Kitchen Design (New Home) $65K-$150K for his work on a custom home in Woodland Hills. Mohr's design for the home involved large, high windows that could flood the kitchen and great room with sunlight.
"It was important to bring in the morning sun," Mohr says. "I had to get those windows high so that the sun wouldn't be blocked by the home that's going in next to that one. I created a canopy feature to inject a cozier feel. The canopy extends across the entryway, and then the ceiling comes down and separates the front entry from the kitchen."
Mohr's innovative canopy design flows seamlessly into a stone fireplace, contrasting the industrial feel…
Click to Read More »
---
The Okanagan attracts golfers from all over the world, of all skill levels and now, thanks to Stand Up and Play BC, those in wheelchairs who love the game can trade their chairs in for clubs.  When Vineyard Developments had the opportunity to purchase special stand up golfing equipment, we were honoured to get involved. Watch Mike Weir, golf superstar, test the equipment at Predator Ridge with a group of deserving individuals.
Click to Read More »
---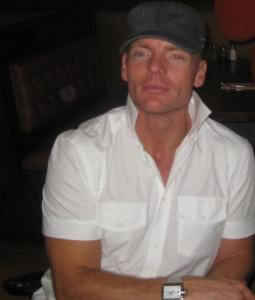 In Focus is our gift to the community. A way for us to help show our recognition for the people, businesses and organizations that help make our city great. The team at KelownaNow.com is passionate about this community and the people that make it amazing. We want to show our friends, neighbours, family and colleagues that we notice them and the fabulous things that they do.
What is your name?
Craig Mohr
What do you always find yourself saying?
This is going to be good!
If you could spend one whole day with anyone in the world who is currently alive, who would you select and why?
The Dali lama. I think he is incredibly wise, loving and lives his life on purpose. There would be endless subjects to talk and learn about.
If you were to receive any existing public award, what award would you like to win?
I have never thought about winning a public award……caring for the environment would be nice. Is there a public award for that??
If you could spend a day with any historical figure, who would you choose and why?
Jesus –The best at life and love that ever walked the earth! It would be incredibly inspiring to be around pure positive energy for an entire day and to learn from the Master.
Who inspires you?
Frank Lloyd Wright. Genius oozes out of his designs. He was light years ahead of his time and had tremendous respect for nature. His work influences today…
Click to Read More »
---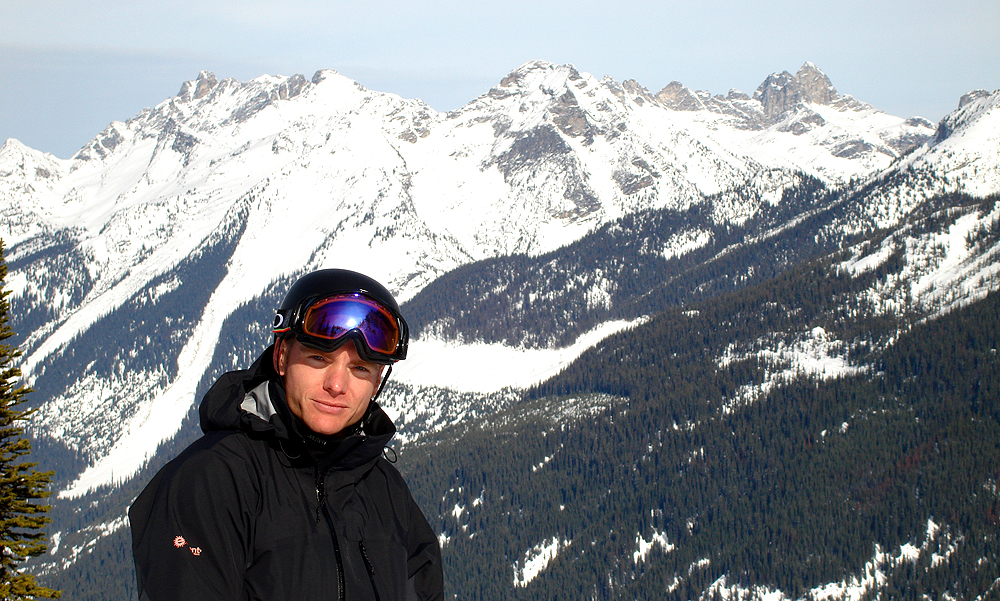 Q: What is your background, and why did you go into home building as a profession?
A: As a fifth generation builder, I've inherited a love for design and construction. I'm especially excited by the fact that in this business, every day is different from the last. There's never a lack of challenges, and these challenges demand the expertise of an accomplished builder with many different skill sets. In fact, I would say that people and communication skills are the most important part of that set. On any given day, I may be on a job site reviewing details with sub-trades, discussing a quote with a supplier, meeting with the city planning department, working with a client to meet their design needs, or giving a prospective buyer a personal tour of a show home.
There are so many aspects to building that keep my creative juices flowing. There's something new to contemplate every hour. It's an exciting business.
Q: Tell us about Vineyard Developments and your projects over the last few years?
A: We incorporated Vineyard Developments Ltd. in 2002 to develop and market a 35-unit townhouse development known as Mission Breeze. These executive townhomes are located off Lequime Road in Kelowna, BC's prestigious lower Mission area.
Once this award-winning development was finished, we worked on a 38-unit townhome development in Invermere, BC. I took the creative lead in every aspect of…
Click to Read More »
---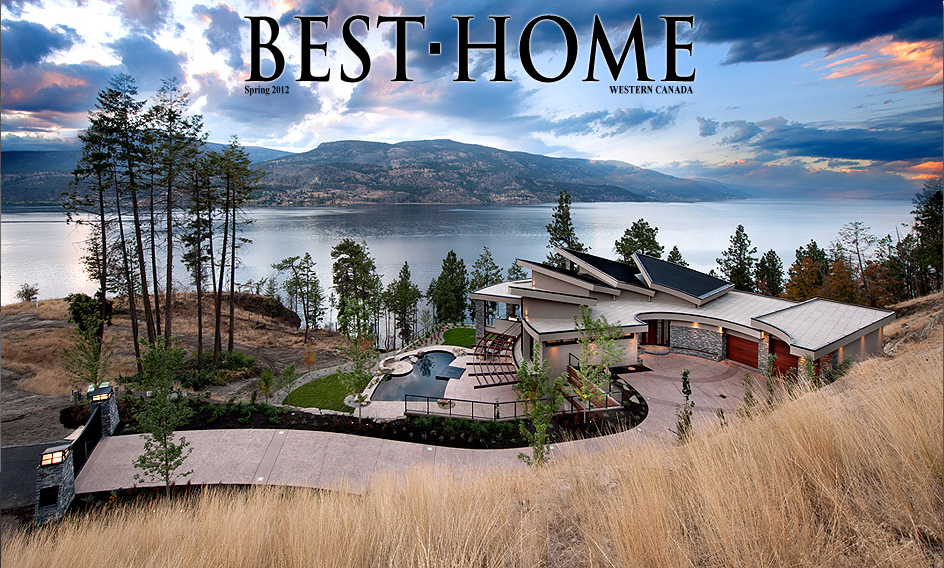 Article from BEST HOME Magazine.
Perched on a mountain slope overlooking British Columbia Lakefront views, this distinctive and picturesque retreat seems to imbibe the whimsy of nature, echoing its forms with a skilled playfulness that captures glances as often and as steadily as the waves molding the shores below.
"It was very important to capture as much of the lake, mountain, and skyline views as possible when designing the home for both style and function," asserts Craig Mohr of Vineyard Developments. Vineyard is known for exceeding client expectations in creating a synergy between a uniquely beautiful exterior and its functional, comfortable interior. A curved design was utilized to help the home blend into the natural setting, as well as allow viewers different perspectives from each room. The proximity to the lake suggested a nautical theme, which was achieved by the inclusion of four sail shapes designed into the roof, each providing a vaulted ceiling to the master bedroom, great room, dining room, and den. "The home is located below the main subdivision road so the rooflines would be a major focal point and therefore it was integral that they be unique and interesting," adds Mohr. Large overhangs also keep the house cool and create shaded outdoor living areas with high rake windows for maximum viewscapes.
For over a decade, Craig has been beautifying Kelowna's viewscape with his distinctive blend of vision and style. As both a design/build…
Click to Read More »
---

"Innovation tests the ingenuity and creativity of designers and builders. This year, Georgie Awards newcomer Vineyard Developments with associate Hybrid Elevators won Best Innovative Feature for an air-actuated vacuum system, a round steel-and-glass elevator assembled on site to serve three floors, from master bedroom to lake level."
Click to Read More »
---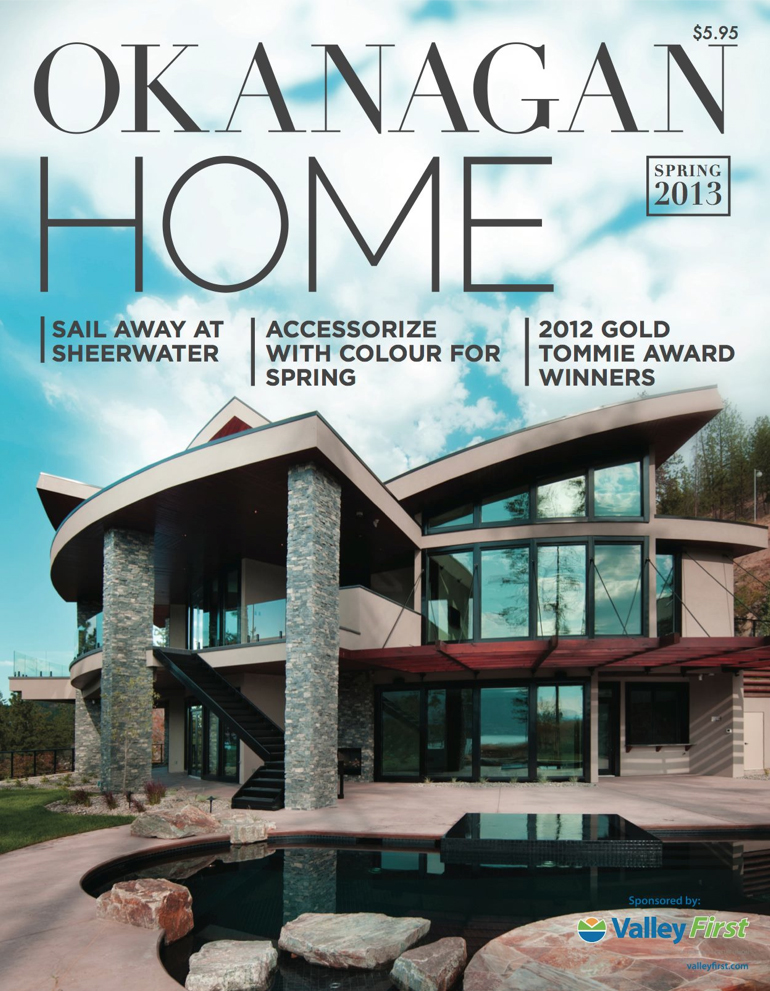 The Okanagan Home Magazine – Spring 2013
Written by Darcy Nybo | Photography by Colin Jewall Photography
The home was designed to look great from the road, 100 feet above. The curve of the driveway and the lines of the home match the curve of the road above and the lake below.
Craig Mohr and Vineyard Developments are well known for their multi-family townhome developments and single-family homes. They recently tackled a project at Sheerwater in Kelowna, BC with a specific task in mind: to ensure all the main rooms of the home had a view of Lake Okanagan.
"I had just finished designing a show home that was really unique," says Mohr from his Kelowna office. "My business partner took that plan with him on a business trip. His client saw them and was interested in buying those plans; however, I wasn't ready to sell them."
The client informed Mohr they had a lot picked out in the Sheerwater development and wanted to build there. He asked Mohr if he could create new plans for that specific lot. "I told them I could design something way cooler within their budget," laughs Mohr. "I worked on a preliminary design which they liked, and then started working with them on a new design for their property. I took six months to complete the design and another six months to go through the price and permit process. A year after we met, we…
Click to Read More »
---
After the record breaking summer we've been having in Kelowna, I've been thinking a lot about passive cooling. Passive cooling systems use on-site energy, natural resources, and architectural design in order to cool a building through non-mechanical means.
In other words, passive cooling is separate from your regular heating and air conditioning unit. It cools the house without extra electricity use. Some systems, called hybrid cooling systems do use motors, fans and pumps to help the natural cooling along.
One of the reasons I am fascinated with passive cooling from a design aspect is because every house has a different ideal passive cooling program based not only on its location, but also the sun exposure, the wind, even the soil on the lot.
Passive cooling can be divided into two main techniques: preventative and modulation. Preventative, as the name implies, focuses on keeping the house from heating up to begin with, while modulation techniques attempt to dissipate heat that's already accumulated.
Here in Kelowna, despite the recent heat, keeping warm in the winter is more of a concern than keeping cool in the summer, but that doesn't mean that passive cooling can't still be relevant in designing your new home. In fact, some passive cooling techniques, like bulk insulation and high performance windows can do double duty, keeping the house warm in the summer and cool in the winter.
Simple ventilation is the most obvious form of passive cooling. Any home builder can tell you that a well-ventilated house, in winter or summer, is…
Click to Read More »
---
I love my home. If you're reading this, you probably love your home too. But chances are, you have a list of things you'd like to change. Most home owners don't even have to stop and think. The kitchen island is too small, the bathroom counter too low, the sink is on the wrong side of the laundry room, and the closets in the master bedroom can't fit my winter coats.
You're not alone. According to the BC Stats, there's been a more than 15% increase in year to date spending on residential building permits between 2013 and 2014 in the Thompson/Okanagan region of BC. That means that more Kelownans have decided to make 2014 their remodel summer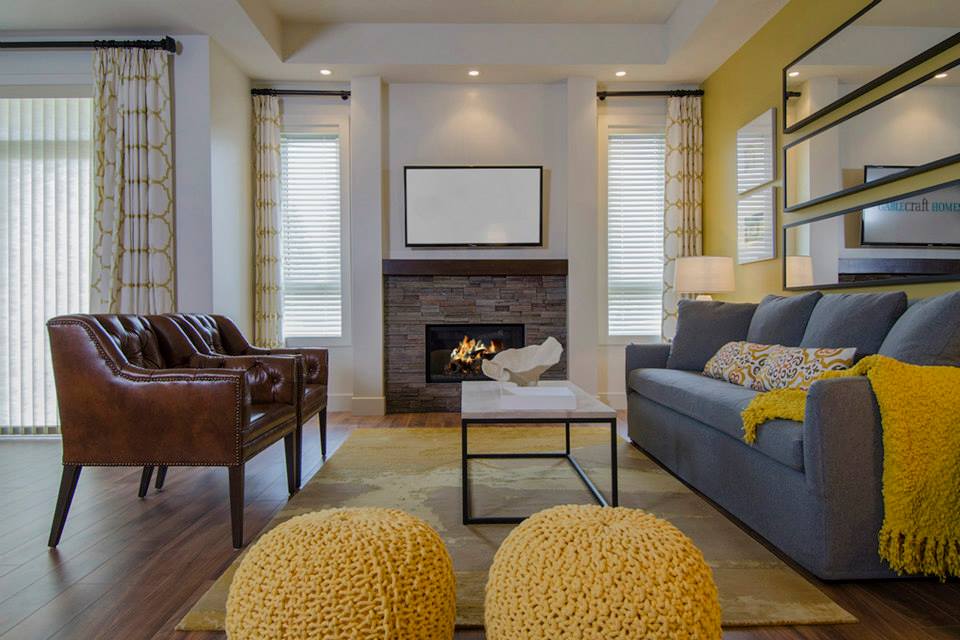 Don't you deserve the best possible version of your house? Doesn't your house deserve to be a showpiece? It's not difficult to transform the experience of your home without losing any of its natural charm. Below are five popular remodels in our area and why people get them.
1. Kitchen
Nationwide, the kitchen remodel is consistently the most popular. The kitchen is one of the rooms we spend the most time in, and it's a room we need to be able to navigate easily. A remodel can bring modernity and ease of use to this, the most useful room in your home.
2. Bathroom
The bathroom remodel is the second most popular construction. A lot of older builders made this room for functionality, sometimes at the cost of form and luxury….
Click to Read More »
---
I love using reclaimed and local resources in my builds and remodels. A look at my portfolio shows my commitment to creating a unique space for my clients, and reclaimed wood is good stuff.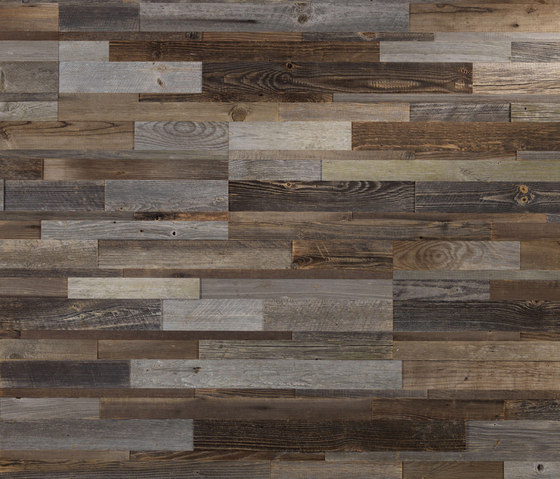 Most timber farms cultivate fast-growing trees that don't support the ecosystem they're grown in. By using reclaimed wood, you can lessen or even eliminate your reliance on farmed wood. You're also keeping useful resources out of a landfill by making an environmentally conscious choice, and you're giving your home a new story all at the same time.
Due to the fact that reclaimed wood was likely harvested from old growth trees, while new wood comes from tree farms that grow and harvest on a quick turn-around, reclaimed wood tends to be stronger, and look better than newly farmed wood. This is because the tree it came from was allowed to develop for several decades, maybe even centuries longer than modern, farmed wood.
While the most obvious reclaimed wood projects are done in a rustic style, that's not a hard and fast rule. With different milling techniques, different types of wood and different finishes, reclaimed wood can fit any style. It can be milled for conformity of size, or to emphasize its variations. It can be stained, pained, or left as natural as possible. It all depends on your taste.
Some people might worry about the reliability of older wood, but reputable dealers will…
Click to Read More »
---
People often ask me where I get the ideas for my award winning houses. Most of it comes from my own passion for form, but it also comes from the greats that have gone before me. Frank Lloyd Wright has been an inspiration for me from the beginning of my career, and he continues to amaze me today.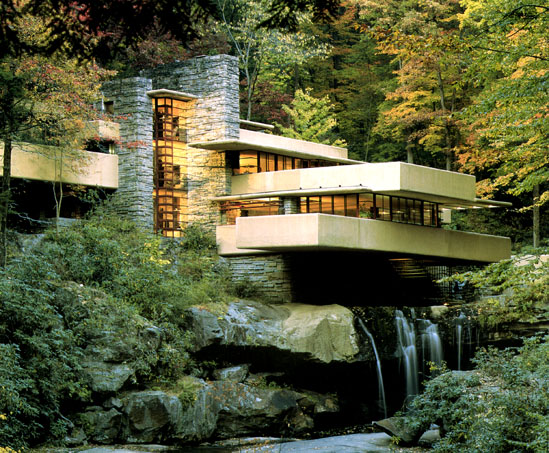 During the course of his life, he designed over 1000 buildings. He had a philosophy he called organic architecture, which compels the architect to build according to the land around the structure.  When you look at Fallingwater (1935), possibly his most iconic building, you can see how the house practically grows out of the land, interacting with its surroundings so gracefully. This is one of the reasons I like to stand on the site with my clients before I start a build: to feel the landscape, and show my clients my vision for their house in its natural setting.
Wright wasn't just an architect, he was an artist. He was a genius. When you look at the body of Wright's work, every building is different from every other one. As industries and habits changed, he changed with them. His career spans the industrialization of North America, and his houses reflect that cultural shift.
One of the reasons I have so much respect for him is that he was never content to just build a house. He was always trying…
Click to Read More »
---
Last Fall I designed a waterfront house in Vernon, Canada with an air pressure vacuum elevator. Since then, I get a lot of questions about the installation, cost, and advantages of vacuum elevators.
Whether or not to put an elevator on your property is a question of lifestyle and personal preference. This article should help you decide if a vacuum elevator is for you.
In comparison to traditional elevators, vacuum elevators are easier to install and cheaper to maintain. The car fits up to two people, standing, and holds up to 450 lbs.  It moves up and down using air pressure created in the top section of the tube. The resulting imbalance makes the cab rise to the upper floors. When the elevator is called down, air is let out of the lower section as it's drawn into the upper section in order to descend smoothly to the ground at a rate of 30 inches per minute.
In the event of an emergency, or a power outage, the elevator automatically descends to the ground floor by letting the air depressurize at its own pace, unassisted by the upper chamber. This means that, if a person were using the elevator and the power went out, they would be taken slowly and gently to the bottom of the line. The elevator also has brakes at the top of the cab that are set to engage within two inches if the pressure seal is broken. Every elevator has an alarm system, emergency ventilation, door safety switches,…
Click to Read More »
---
So you've decided to build a new home, or remodel your current home. It's a big project, but it doesn't have to be daunting, provided you know the right questions to ask at the start. When a client comes into my office with these five things, I know we're getting off on the right foot.
1. An Idea of what you want
I like to think of myself as a guy with a lot of great ideas, some of them have even won awards but even my best idea can be made better with your input. This is your house, your castle. It should be everything you want. It's okay to bring pictures, magazines, drawings, even video clips you play on your phone. Everything is important when you're building a new home.
2. A list of what you like and dislike about your current house
It's important to know what you want, but it's also important to know what you don't want. Think of the home you live in now, or homes you've lived in in the past. What works for you in that space? Which rooms are easiest to live in? What doesn't work? What do you miss about previous houses.
3. A list of potential trouble spots or concerns
It can be hard to think of these things when we're in the initial stages of planning for a new house. These are the questions that come to you while driving down the highway, or halfway through dinner that can be so difficult…
Click to Read More »
---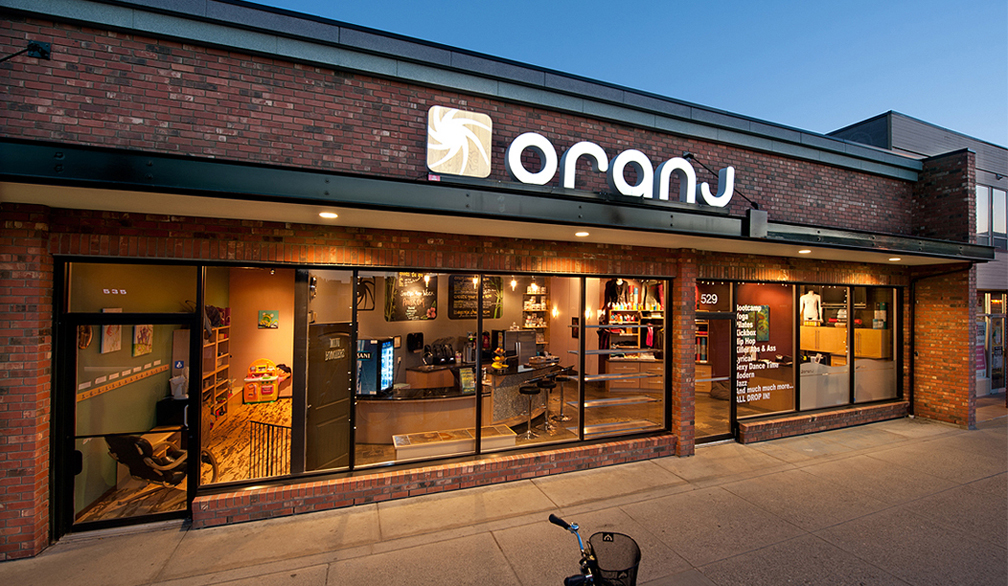 Sheila Chutskoff – Owner of Oranj Fitness
It is my pleasure to write a letter of reference for Craig Mohr of Vineyard Developments. Craig designed and built both of my fitness studio and I cannot begin to describe the professionalism and quality that Craig brings to his work. Craig is upfront with both finances and timelines, he communicates very well and can bring any vision to reality.
The quality of Craig's work is impeccable and his attention to detail is second to none. Not only was Craig part of the design and construction of my Kelowna studio, he also assisted in my Fort McMurray studio. In Fort McMurray we encountered many unique construction challenges that Craig had to contend with. Craig dealt with these challenges in a timely manner and enabled the studio to be a one of a kind facility.
I would highly recommend choosing Craig for any design and building project. I look forward to working with Craig in the future.
Click to Read More »
---