---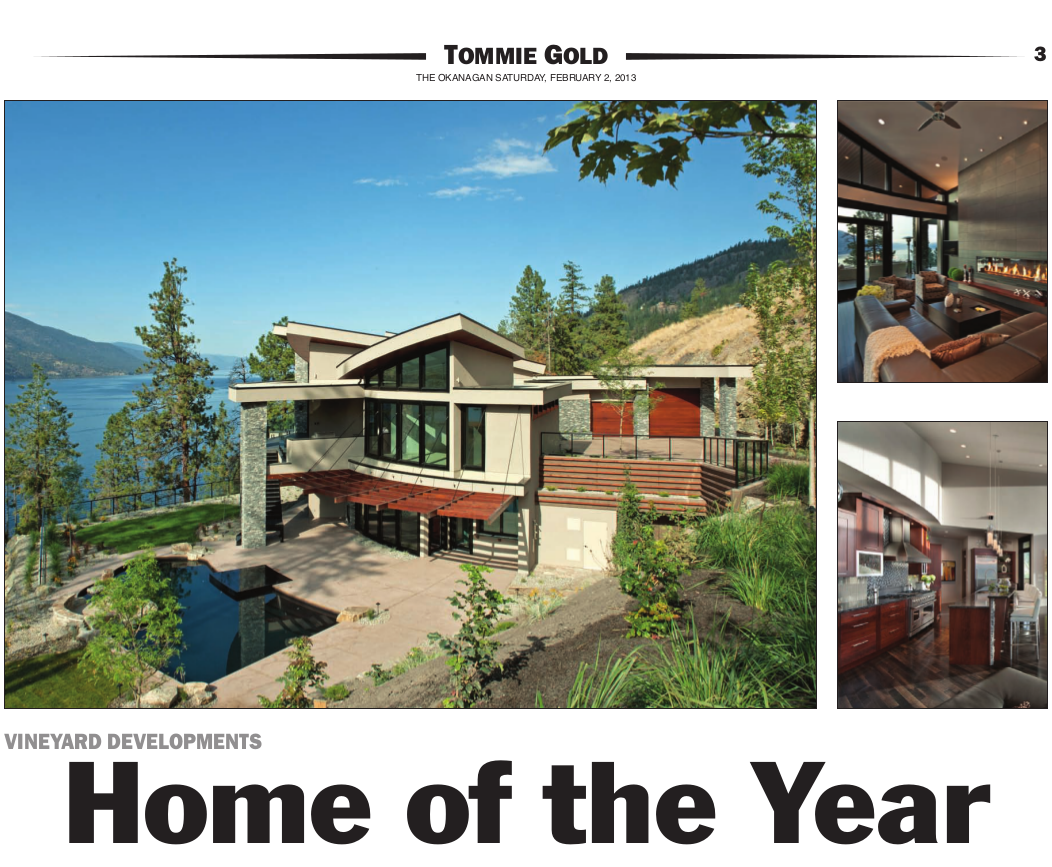 By Ross Freak
Special to The Okanagan Saturday
February 2, 2013
Craig Mohr's journey to building excellence and a grand Tommie started on a drilling rig in Northern Alberta. The fifth generation builder won Home of the Year – one of the four Grand Tommies — and another gold for excellence in a single family detached home over $3 million at the Canadian Home Builders Association gala January 26th.
"My dad offered me his business when I finished high school and even though it took me a few years to figure things out and come back to this industry, I now feel very lucky to be doing something I'm so passionate about. From concept, design and materials – to construction and completion, Vineyard Developments is an extremely satisfying business for me."
Instead, Mohr studied business, and fine arts and got his first job in Kelowna at Western Star's marketing department. "I had a dream of putting on a suit and tie, going to the office, which I found I really didn't like. The pay was good and I'd probably still be there, but fortunately, they closed the plant and I had to head in another direction."
That direction eventually took him to the drilling rig. "It was 30 below, so I phoned my dad to see if he would help me start a construction business in Kelowna." His father, who had moved here, had just been offered a piece of property in the Mission on which they would build Mission Breeze, a 35-unit townhouse development.
"My dad said, 'you're going to be responsible for it all. You will learn everything that's involved.' I dealt with all aspects of that particular project, including selling the units. It hit the market just perfectly because it shot off like a rocket, and I had the means to branch out on my own. I put on water wings and it was sink or swim."
Mohr needed those water wings when the economy sank shortly after. He was building million-dollar homes, but living in a 28-foot camper. "It's tough living in a camper during the winter, but I had my hot tub set up."
While times were tough, he didn't sell himself out or short. "I'm always creating something unique. I'm more concerned with standing back and asking myself: am I happy with the end product? Does this get my juices going?"
The house that won him the Grand Tommie got his juices going, and he submersed himself in it for three years. "It was the first thing I thought about getting up and the last thing at night."
While skill and dedication delivered the Tommie, luck got him the job. He had drafted a house plan, which his business partner was looking at on the plane to Edmonton, when someone looked over his shoulder, and was captivated.
"He called me a few days later and said he wanted to buy the plan. When he said he wanted to build in Sheerwater that piqued my interest and when he told me his budget, I said. 'I can design something way cooler.'"
Mohr spent a year designing the house and another six months working on the site before the footings went in. "It was challenging lot, but the clients gave me a huge amount of freedom." He had a gut feeling the dream house would pay off in another dream – gold Tommies. He even wrote two speeches, but could only give the one for the Grand Tommie.
"In the first, I wanted to thank my parents because my mom and dad went out on a huge limb for me."
He's starting another large project, a 74-unit townhouse complex, and has a few multi-million-dollar homes on the go that might get him back at the Tommie podium.
"I want to make sure I'm meeting my clients' expectations, to go above and beyond to create something unique. "I want to get up in morning and enjoy what I'm doing. If I can find a nice balance by not working too hard and having free time, that would be success for me."