---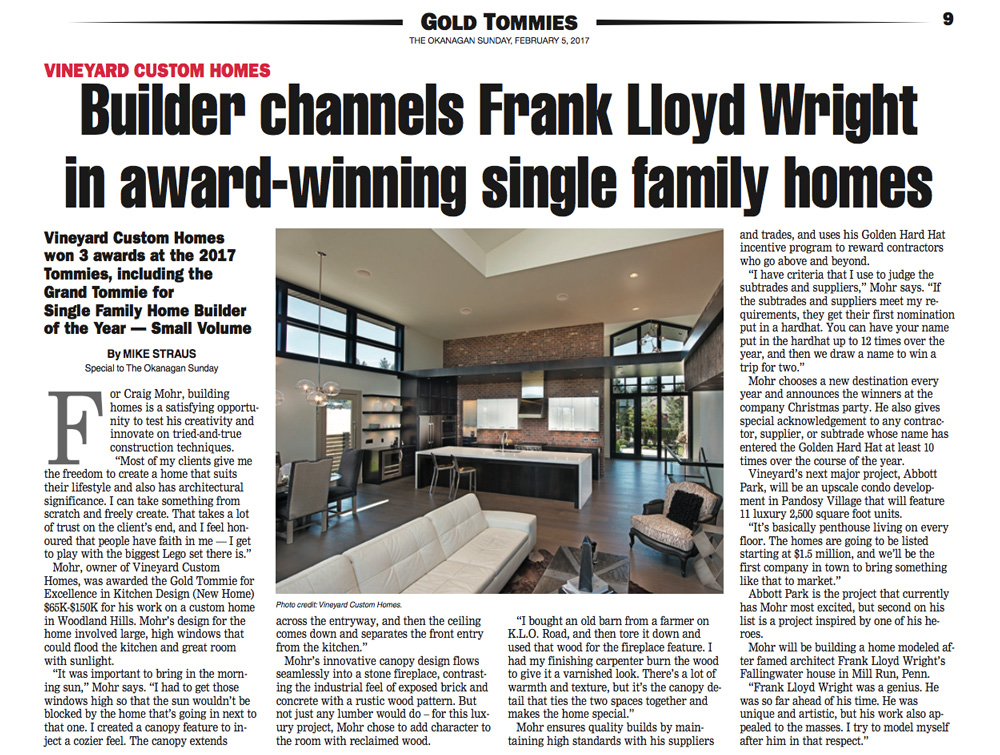 The Okanagan – February 2017
Written By MIKE STRAUS | Special to The Okanagan Sunday
Vineyard Custom Homes won 3 awards at the 2017 Tommies, including the Grand Tommie for Single Family Home Builder of the Year — Small Volume
For Craig Mohr, building homes is a satisfying opportunity to test his creativity and innovate on tried-and-true construction techniques.
"Most of my clients give me the freedom to create a home that suits their lifestyle and also has architectural significance. I can take something from scratch and freely create. That takes a lot of trust on the client's end, and I feel honoured that people have faith in me — I get to play with the biggest Lego set there is."
Mohr, owner of Vineyard Custom Homes, was awarded the Gold Tommie for Excellence in Kitchen Design (New Home) $65K-$150K for his work on a custom home in Woodland Hills. Mohr's design for the home involved large, high windows that could flood the kitchen and great room with sunlight.
"It was important to bring in the morning sun," Mohr says. "I had to get those windows high so that the sun wouldn't be blocked by the home that's going in next to that one. I created a canopy feature to inject a cozier feel. The canopy extends across the entryway, and then the ceiling comes down and separates the front entry from the kitchen."
Mohr's innovative canopy design flows seamlessly into a stone fireplace, contrasting the industrial feel of exposed brick and concrete with a rustic wood pattern. But not just any lumber would do – for this luxury project, Mohr chose to add character to the room with reclaimed wood.
"I bought an old barn from a farmer on K.L.O. Road, and then tore it down and used that wood for the fireplace feature. I had my finishing carpenter burn the wood to give it a varnished look. There's a lot of warmth and texture, but it's the canopy detail that ties the two spaces together and makes the home special."
Mohr ensures quality builds by maintaining high standards with his suppliers and trades, and uses his Golden Hard Hat incentive program to reward contractors who go above and beyond.
"I have criteria that I use to judge the subtrades and suppliers," Mohr says. "If the subtrades and suppliers meet my requirements, they get their first nomination put in a hardhat. You can have your name put in the hardhat up to 12 times over the year, and then we draw a name to win a trip for two."
Mohr chooses a new destination every year and announces the winners at the company Christmas party. He also gives special acknowledgement to any contractor, supplier, or subtrade whose name has entered the Golden Hard Hat at least 10 times over the course of the year.
Vineyard's next major project, Abbott Park, will be an upscale condo development in Pandosy Village that will feature 11 luxury 2,500 square foot units.
"It's basically penthouse living on every floor. The homes are going to be listed starting at $1.5 million, and we'll be the first company in town to bring something like that to market."
Abbott Park is the project that currently has Mohr most excited, but second on his list is a project inspired by one of his heroes. Mohr will be building a home modeled after famed architect Frank Lloyd Wright's Fallingwater house in Mill Run, Penn.
"Frank Lloyd Wright was a genius. He was so far ahead of his time. He was unique and artistic, but his work also appealed to the masses. I try to model myself after him in that respect."