---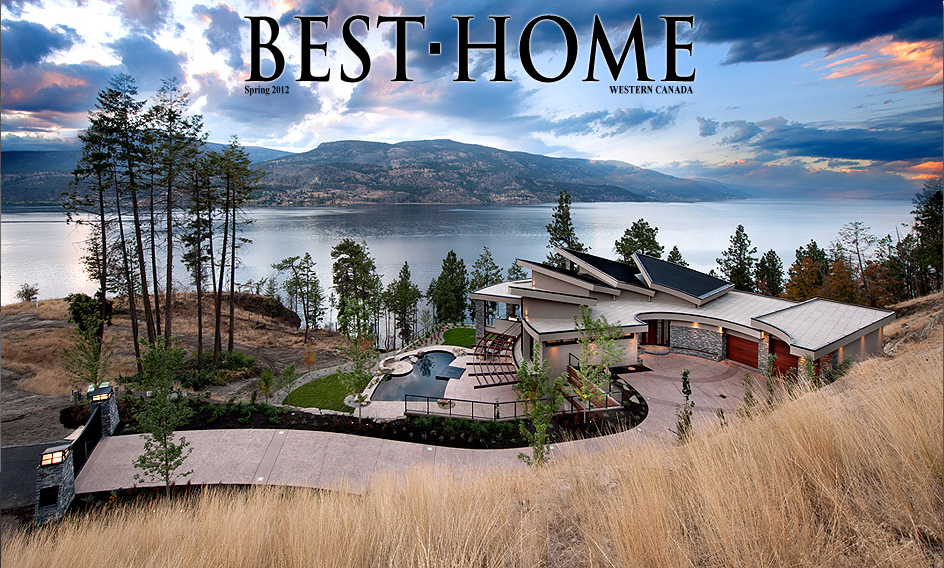 Article from BEST HOME Magazine.
Perched on a mountain slope overlooking British Columbia Lakefront views, this distinctive and picturesque retreat seems to imbibe the whimsy of nature, echoing its forms with a skilled playfulness that captures glances as often and as steadily as the waves molding the shores below.
"It was very important to capture as much of the lake, mountain, and skyline views as possible when designing the home for both style and function," asserts Craig Mohr of Vineyard Developments. Vineyard is known for exceeding client expectations in creating a synergy between a uniquely beautiful exterior and its functional, comfortable interior. A curved design was utilized to help the home blend into the natural setting, as well as allow viewers different perspectives from each room. The proximity to the lake suggested a nautical theme, which was achieved by the inclusion of four sail shapes designed into the roof, each providing a vaulted ceiling to the master bedroom, great room, dining room, and den. "The home is located below the main subdivision road so the rooflines would be a major focal point and therefore it was integral that they be unique and interesting," adds Mohr. Large overhangs also keep the house cool and create shaded outdoor living areas with high rake windows for maximum viewscapes.
For over a decade, Craig has been beautifying Kelowna's viewscape with his distinctive blend of vision and style. As both a design/build company, Vineyard captures the essence of their client's dream and translates it into reality, using the latest building products and their best applications to achieve results that speak for themselves. "The foundation and structure of this home were very complicated, so several engineering methods were evaluated to ensure structural integrity was maintained while remaining as cost-effective as possible," affirms Mohr. As the site was located on a mountain slope, large quantities of rock had to be excavated and substantial retaining walls erected, creating a walkout with elevator access to accommodate guest bedrooms, a recreation room, a gym, and media center. Resolute in his strategy of 'connect-create-construct,' Craig's aim to satisfy client needs with an eye on every detail was carried through to fruition.
Thankful for his client's trust, that allowed him the creative freedom to develop what he felt was appropriate for their family, home site, and the surrounding area, Craig adds, "They wanted a funky, contemporary concept with great views that would fulfill family needs. It was an exciting project from start to finish, one that was three years in the making." Featuring 6600 square feet of concrete, steel, and wood, this ultra-custom home required countless hours of planning to achieve an original concept that demanded design vigilance and strategic review.
"I count myself very fortunate to have had this opportunity and freedom to design and build a world-class home for such a deserving family. It was a true labour of love for everyone involved", recounts Craig, whose artistic background allowed him to derive from the creative side of this venture much personal joy and satisfaction. In retrospect, the project testifies to Craig's business credo: "The best approach is to under-promise and over-deliver."